By stimulating the weaker side of the brain you allow it to become stronger, thus improving overall performance both mentally and physically. Eyelights can be used by anyone since everyone has one side of the brain that functions at a higher level than the other. Eyelights can be used by children with learning disabilities in order to keep them more attentive and focused in the classroom. Athletes are wearing Eyelights to increase performance on the field or to push through a plateau. Anyone can wear Eyelights to deal more effectively with stress, depression, or neurological disorders.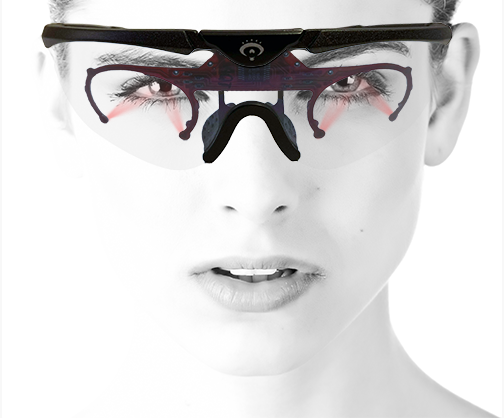 Let Eyelights take you Beyond Limitation!
Since everyone has one side of the brain that functions at a higher level than the other, there is no limit to the benefits of wearing Eyelights. Eyelights can be worn around the house for a little "pick me up" or at work to keep you more attentive and focused. Wearing Eyelights while exercising can make you more aggressive, yet less tired. Eyelights can also prove beneficial if you suffer from headaches, stress, or lack of energy.
Increase Serotonin and Dopamine Production
One of the main functions of the light therapy used by Eyelights is to produce higher levels of serotonin and dopamine. Serotonin affects the mentality of a person (limbic lobe of the brain). When the brain produces too little serotonin, mood swings, learning problems, and depression can occur. The light pulses will increase serotonin production and aid in the treatment of patients experiencing mental or emotional problems.Dopamine in the brain controls motor function and strength of muscle. When dopamine is present, one has control of fine motor movements. The lack of dopamine causes movement disorders such as Parkinson's. Eyelights excite the receptors at the back of the retina, which in turn fire to the brain stem in three different areas. One of these areas is the mesencephalon, the highest center, which stimulates A9 and A10 cells into producing dopamine.Scoliosis
Scoliosis
Medial rectus muscles control or have relationship with the multifidi muscles of the erector spinae group. Due to the homologous column of the body, if the medial rectus is weak, the multifidi muscles will also be inhibited, or hypotonic, allowing for rotations of the spinous processes to occur. When muscle tone is hypertonic on one side of the spine, coupled with growth spurts during puberty, you will see concavities of the spine occurring (scoliosis). Curvatures develop because of the brains influence on spinal structures, coupled with puberty and growth. As the multifidi are stimulated, tone changes will occur, and changes in the coupling of the spine are at this point recognized.Seasonal Depression
Seasonal Depression
During the winter months many people are affected by Seasonal Affective Disorder or SAD, which is a form of depression caused by a decrease in the number of hours of daylight. In some people a decrease in exposure to light can lead to decreased energy, depressed moods, and increase in appetite. The light therapy that Eyelights offers can alleviate many of these symptoms. People experiencing SAD may produce less melatonin and Serotonin which can lead to a depressive state. Eyelights can cause the brain to release elevated levels of these chemicals causing many symptoms to pass. Change in Gait Patterns for athletes
If an athlete has a non-dominant right eye, there will be weakness of the back muscles on the right side, resulting in decreased tone on that side and increased tone on the dominant side. This causes a shortened gait pattern to occur on dominant side (left), while the non-dominant side has a longer stride. The result is abnormal or uncoordinated movement due to the rotation of the pelvis. Eyelights can stabilize the mid-line so that both sides become equal and a change in gait pattern occurs. Eyelights and Learning ProblemsSeeing is our dominant sense and primary source for gathering information in learning. Vision problems can have a profound effect on how a child learns. A vision problem can be easily mistaken for a learning problem. For example, children who have visual problems often can't stay focused on their school work or task at hand. They may be misdiagnosed as ADHD because children with ADHD elicit the same problems in the same areasAccommodation (eye focusing)Visual-motor integration (eye/hand coordination, sports vision)Eye tracking skills (eyes following a line of print)Visual perception (visual memory, visual form perception, directionality)
Increase Serotonin Production
Children who are diagnosed with learning disabilities have a neurotransmitter imbalance and are often not producing enough serotonin. Serotonin is a major chemical in the brain involved in communication between nerves. It is involved in controlling emotions, ability to pay attention, motivation to do things, and ability to think before acting. Drugs such as Ritalin are used to stimulate the brain into producing elevated levels of serotonin. However, these drugs can cause serious side effects such as tics, insomnia, dependency, and a dramatic decrease in appetite which can lead to stunted growth. Eyelights can promote serotonin production naturally, without the side effects caused by drugs. Eyelights excite the receptors at the back of the retina, which in turn fire to the brain stem in three different areas. One of these areas is the pons, which stimulates A7 and A8 cells into producing serotonin. Recent studies have shown that children who play video games end up with increased serotonin levels. Again, this is what Eyelights achieves naturally with its light pulses to the brain, while allowing a child to study or play a sport at the same time.
Increase Dopamine Production
Dopamine in the brain controls motor function and strength of muscle. Eyelights stimulate A9 and A10 cells, located in the mesencephalon of the brain, into producing higher levels of dopamine. Higher dopamine levels can increase a child's ability to kick a soccer ball, hit a baseball, or throw a football.